« Dianne's Guest Blog Week: Monica's Grandma Edith's Pea Salad | Main | Dianne's Guest Blog Week: Katherine's Oatmeal White Chocolate Chip Cookies »
October 16, 2008
Dianne's Guest Blog Week: Heather's Pumpkin Pancakes
I first discovered Heather's blog back when I was still participating in Tuesday's With Dorie and I'm so glad that I did! I've been an avid reader ever since. When I needed another volunteer for my Guest Blog week she graciously jumped right in and she made something with pumpkin...Mmmm...Pumpkin! If you haven't stopped by her blog, you most definitely should. She makes some amazing things and her dog is one of the cutest little things I've ever seen! Seriously...Have you ever seen a cuter little face?? But now let's talk some Pumpkin Pancakes Heather style!
Heather blogs about all things food over at Randomosity and the Girl.
One of my favorite things about the end of summer and move into fall is the appearance of pumpkins everywhere. I love almost everything pumpkin, muffins, pie, breads and pasta. So as soon as the seasons change and the cooler weather starts, cans of pumpkin puree start hitting my shopping cart at the grocery store (well, honestly there's a can in the pantry all year!).
Recently, my mom sent me this pancake recipe when I was looking for a new pumpkin bread. It wasn't the bread I was looking for but it intrigued me because of the pumpkin. These pancakes are full of delicious pumpkin pie flavor but it isn't overwhelming for a pancake. They are wonderful topped with a pat of butter and maple syrup but would be great with whatever you prefer to have on your pancakes. They come together really quickly so they make a great weekend breakfast. Or if you are like me, they make an amazing dinner!
Thanks to Dianne for allowing me to guest post this week! I hope you have a great birthday! (Dianne Note: Thank you Heather for filling in! Oh and my birthday was fabulous!)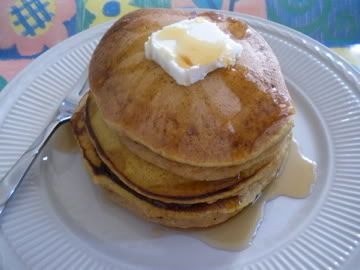 Ingredients:
2 c. Bisquick
2 T. packed brown sugar
2 t. cinnamon
1 t. allspice
½ c. canned pumpkin
1 can evaporated milk
2 T. applesauce
2 eggs
1 t. vanilla

Directions:
Mix dry ingredients. Add remaining ingredients until well blended.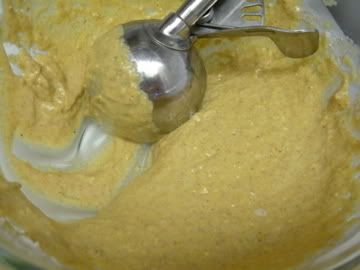 Cook on a hot, greased griddle, using about 1/4 cup of batter for each pancake. Cook until brown on one side and around edge; turn and brown the other side.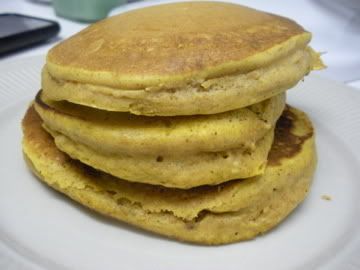 Top with butter and maple syrup or topping of your preference. Enjoy!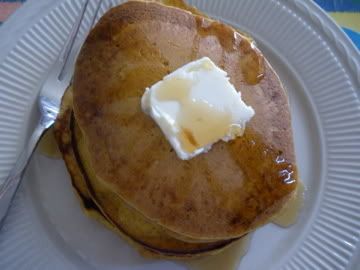 Makes about 12 pancakes.
Posted by Dianne at October 16, 2008 8:18 AM
Trackback Pings
TrackBack URL for this entry:
http://www.diannesdishes.com/cgi-bin/mt/mt-t.cgi/764
Comments
Yum...Pumpkin Pancakes! Thanks for filling in for me...These look great! :o)
Posted by: Dianne at October 16, 2008 9:12 AM
Yum! Those look great and I have some leftover pumpkin in the fridge right now...
Posted by: anne at October 16, 2008 10:42 AM